{MIXED} MEDIA ART
HOT AIR
A media installation – combining video projections, oversized balloons, found audio, and white noise – Hot Air was exhibited in September 2017 at Centre[3] for Print and Media Arts, with the opening reception taking place during Supercrawl, a yearly arts & music festival drawing over a 100,000 visitors to Hamilton's James Street North.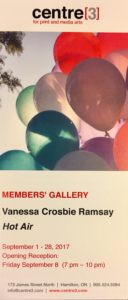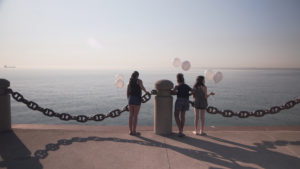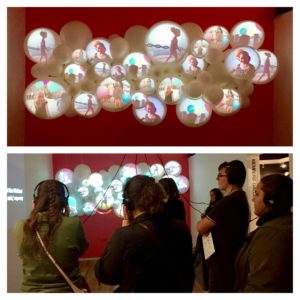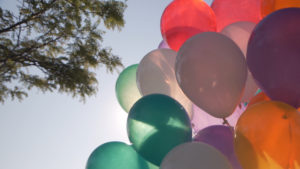 Using 2-channels of projected video and balloons to visually represent the 'hot air' directed at women in our society, this work also includes misogynistic headlines, audio of news reporters covering outrageously sexist stories, and sound clips of public figures – celebrities, politicians, athletes, and television pundits – using their platform to disparage women.
Funding support for Hot Air at Centre[3] for Print & Media Arts was generously provided by the Ontario Arts Council.

---
MEMORY IS KEY
Exhibited as part of OPTICKS PRESENTS: "A PORTRAIT OF HAMILTON'S EAST MOUNTAIN"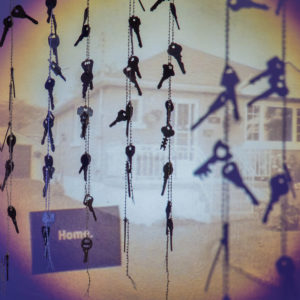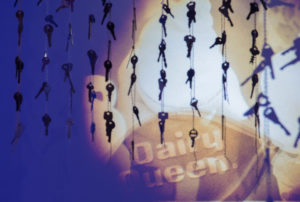 OPTICKS, a monthly projection and light-art initiative, encourages people of all backgrounds and skill-sets to actively make/learn/teach/explore all things based around light/projection art.
Running September 8-10, 2017, this group show, conceptualized by John Smith and Andrew O'Connor, was based around documenting, re-interpreting, and creating an experimental and abstract representation of Hamilton's East Mountain using light, audio, and experimental techniques.
My piece revolved around the idea that our memories are the 'key' to how we feel about a place. Using social media, a crowd-sourced trip down memory lane produced quotes and locations from current and former residents of the East Mountain. These memories were then re-created/re-constructed by hand using found images and an overhead projector. The results were filmed and included in the show at HAVN along with a sculptural component comprised of 100+ keys.
Check out more about the show here – https://myalbum.com/album/HUlUTqFcdNu8
(Documentation by Alejandro)
---
FOUND IN TRANSLATION (The Process Project)
Exploring works of art moving from concept to completion, this project received funding from Hamilton's City Enrichment Fund. Diverse Hamilton artists – a painter, dancers, screen printer, rap musician and a photographer – were filmed as they engaged in their artistic practice. The culminating work includes film footage, the completed artworks, and an audio-scape exploring thoughts on the creative process.
This project was exhibited at HAVN – Hamilton Audio-Visual Node in June 2017.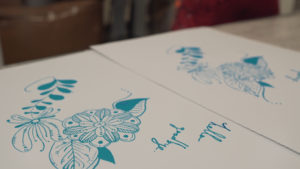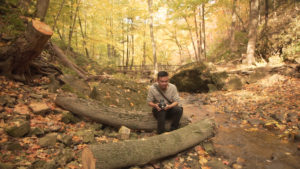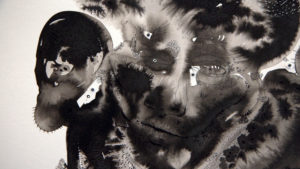 ---
YOUTH MODALITIES
In Spring 2017 I participated as an artist in a research study between Brock University & the University of Glasgow that explored the digital lives of youth and how they spend their time online. In the end I was asked to create an artistic response to the project. This video represents my take on the activities and the process.
---
THE MIND'S EYE (with the DAV(e) Collective)
The Mind's Eye – a site-specific collaborative video installation exhibited at the Factory Media Centre from December 9-23, 2016, created as part of the DAV(e) Collective.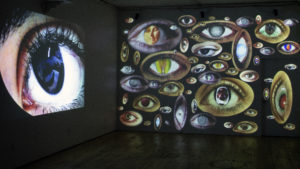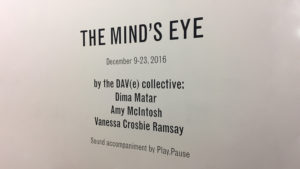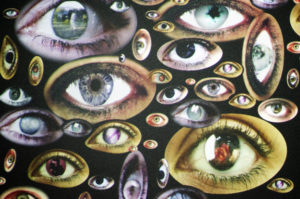 The Mind's Eye focuses on what we 'see' in the world versus how we see it in our minds, and the disconnect that exists between 'reality' and how we process it internally. Through looking into our eyes, audiences were treated to the DAV(e) Collective's mental imagery, insecurities, fears, and the dark depths of our psyches.
" … we are not just looking at a scene from outside; we are always in it. People, you might say, are biological sensing devices, placed in an infinitely complex three-dimensional environment. What we see, subjectively, is always related to what we are interested in … the eye is attached to the mind." — Martin Gayford, writing on David Hockney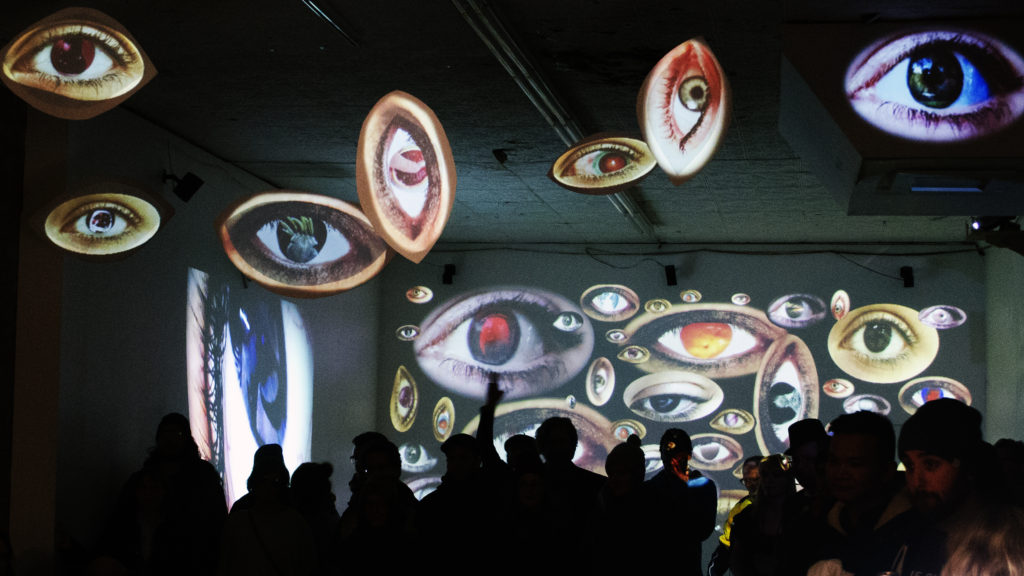 ---
LOOKING BACK, LOOKING FORWARD (with the DAV(e) Collective)
In August 2016 the DAV(e) collective was selected by Hamilton's Woman Abuse Working Group (WAWG), a coalition of 20+ agencies working to end violence against women, to facilitate an art project for women who are survivors of domestic or sexual violence. We led them through the creation of mixed-media collages, and with their permission, filmed the process. The artwork and our short documentary video were exhibited at the Art Gallery of Hamilton, in the Jean and Ross Fischer Gallery in December 2016.
---
EVERY SECOND COUNTS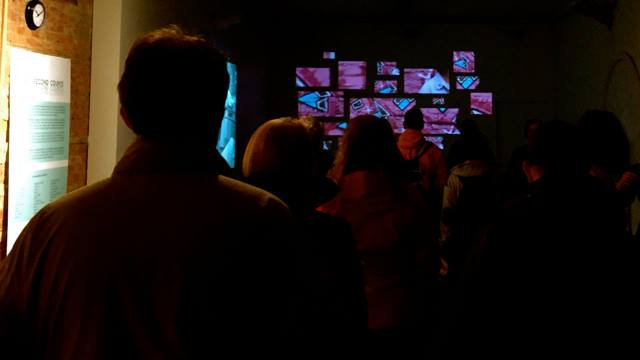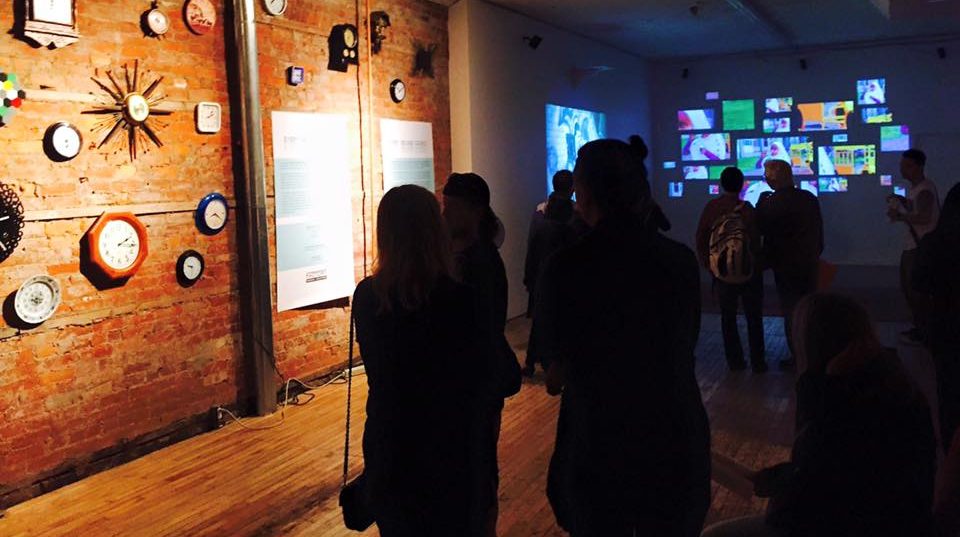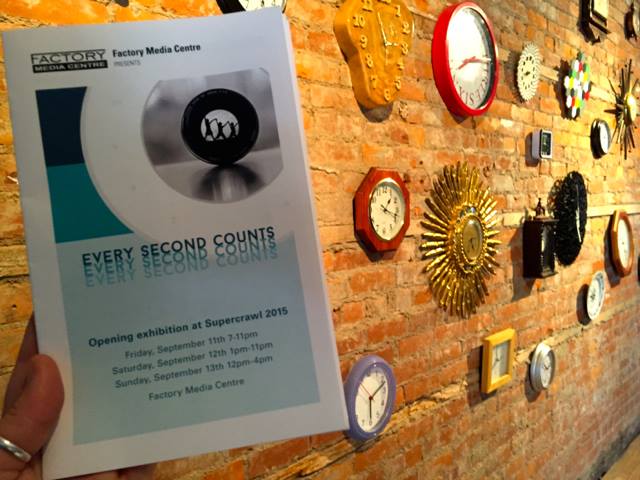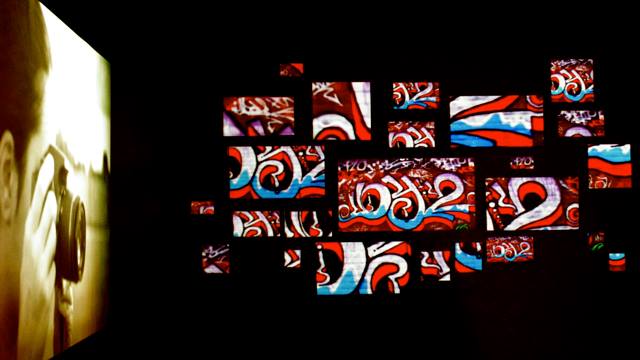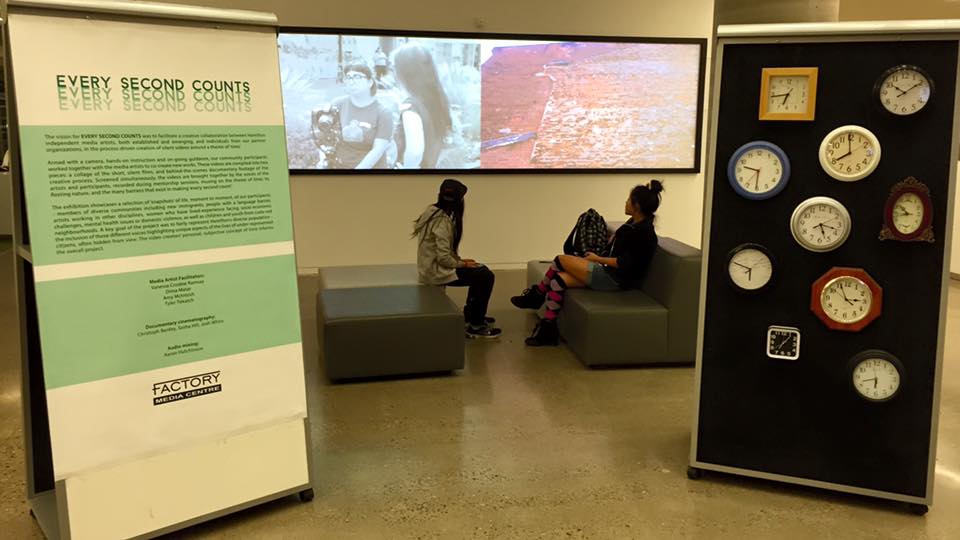 A community media arts project from 2015, Every Second Counts involved media artists and local citizen participants collaborating and co-creating personal videos around a theme of time, and the inevitability of time passing us by. The Factory Media Centre offered participants a hands-on mentorship session facilitated by media artists who shared the basics of visual storytelling, and mentored participants throughout the creative process. A culminating two-channel video installation was created from the collected participant videos, and from documentary footage of the creative collaboration process, filmed at each of our community mentorship sessions. We engaged diverse communities (including new immigrants, women with lowered socio-economic status, people with language barriers, artists working in other mediums, as well as underprivileged children/youth) by partnering for the project with the Women's Centre of Hamilton, Culture for Kids in the Arts, Hamilton Artists Inc, and the Immigrant Women's Centre. In the exhibition, the two videos were displayed simultaneously, one full screen and the other fragmented via projection mapping. An audio-scape included the voices of our participants, ambient background music, and clocks phasing in and out of time. Public exhibitions took place in September 2015 during Supercrawl and Culture Days, and for a week in November 2015 at the Hamilton Public Library (Central).